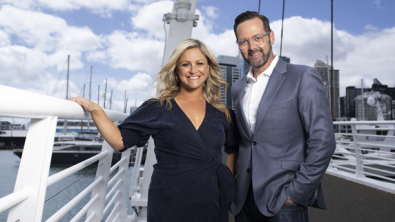 Emirates Team New Zealand's victory in the PRADA America's Cup was watched by 1,395,100* New Zealanders on TVNZ yesterday. TVNZ's Director of Content, Cate Slater, was buoyed by the enthusiasm of Kiwis who watched the action live as it unfolded.

"A huge 1,395,100 people watched TVNZ's 36th PRADA America's Cup broadcast coverage yesterday, and a further 181,475* streamed the coverage via TVNZ OnDemand, showing just how much this event has resonated with Aotearoa. And it's not just the final day that drew the attention of people across the country, the whole event including the World Series, Christmas Cup, Prada Cup and finally the America's Cup, saw 2,674,600** people tuning in at some point to enjoy the action on the water. The final broke TVNZ OnDemand concurrent live streaming records, with the greatest number of simultaneous streams ever seen on the platform."

The dedicated TVNZ production team delivered all the live action with local commentary, analysis and entertainment. Sailing commentator Peter Lester, a key member of the TVNZ team, reflected on the past months.

"It has been a magnificent experience to be part of the world class TVNZ crew delivering coverage of the 36th America's Cup from Auckland's harbour to all of New Zealand. We've witnessed incredible technology at play and the skill of the 150 people that work at Emirates Team New Zealand. Our sailors, led by Peter Burling, showed a phenomenal display of expertise and tenacity to seal the win. To see so many New Zealander's watching on TV and OnDemand as well as on and around the harbour, proves what a fantastic spectator event the America's Cup is."

*Source: Nielsen TAM, 17/03/21, Overnights, Cume Reach, TVNZ 1 and DUKE. incl. TVNZ +1. Total reach includes Big Race Day, live racing, highlight, filler, and replay. Youbora TVNZ 1 15:00-18:00

**Source: Nielsen TAM, 17/12/2020 – 17/3/2021, Consolidated, to 9/3/21 TVNZ 1* and DUKE*, Cume Reach, incl. TVNZ+1. Includes replays, highlights, filler, Big Race Day.