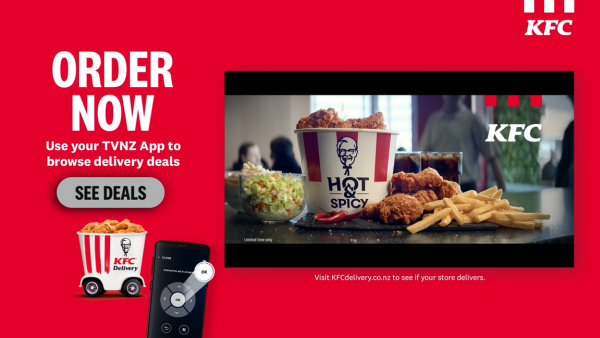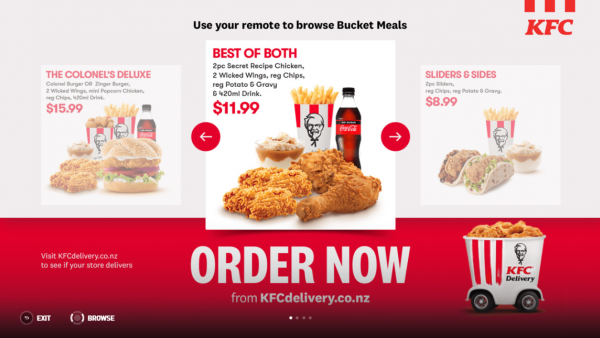 Interactive Connected TV advertising is joining TVNZ's commercial line-up – with KFC the first brand to debut this format in New Zealand.
Connected TVs are the fastest growing endpoint group for TVNZ OnDemand. New Zealand audiences are increasingly turning to the biggest screen in the house to stream their favourite content. This viewing trend is driving commercial innovation too, with brands looking for new ways to further leverage TVNZ OnDemand's huge reach to connect with their customers.
Interactive Connected TV advertising lets businesses customise their usual video content to offer an opportunity for viewers to engage with brands. With this format, viewers can navigate additional information or content with the click of a remote. This could include exploring carousals of product images or discovering related website content. There are two formats available; the overlay and the expand formats.
Jodi O'Donnell, TVNZ's Commercial Director says "Interactive Connected TV is the next generation of premium online video advertising and TVNZ is excited to be the first to offer this format in the APAC region. It's a solution that increases time spent with brands to deliver measurable results. It also offers viewers a more engaging and immersive advertising experience."
Fullscreen, un-skippable ads available on TVNZ OnDemand have always offered a premium, brand safe environment for businesses to talk to their customers. Interactive Connected TV advertising moves this experience from passive to dynamic and KFC will be first in market on 18 August. Their creative will let potential customers browse a delivery menu carousel increasing time spent with the brand and enticing viewers to pick from the KFC meal range.
KFC's agency, PHD knew their client was the perfect brand to showcase this technology with New Zealand viewers. PHD's Group Business Director, Amanda Palenski says "We've all experienced that moment when you're hungry but struggle to get off the couch to do anything about it. So giving viewers the opportunity to browse through KFC's deals from the comfort of their couch whilst watching TVNZ OnDemand was a no brainer for us."
TVNZ's existing relationship with production partner Innovid has produced a track record of data-led ad innovation. Interactive Connected TV advertising will be offered on Chromecast, Samsung TV, Android TV and Apple TV, with more devices to come. Chromecast is the most used Connected TV endpoint with TVNZ OnDemand users. With this in mind, TVNZ will be the first in the world to offer Interactive Connected TV advertising on Chromecast, as well as Android TV.