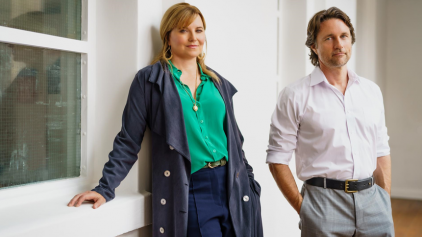 Set to premiere after Tokyo 2020, Lucy Lawless reprises her role as the fiercely independent and brilliant detective Alexa Crowe, where she'll be joined on screen by some of best acting talent from Aotearoa and further afield. Filmed entirely in New Zealand, the spin-off series sees Alexa Crowe in Tāmaki Makaurau, featuring an impressive cast list including: Matt Whelan (The Luminaries) and Cian Elyse White (Vegas), Anika Moa, and Ben Barrington (Shortland Street).
Martin Henderson, known for his roles on Grey's Anatomy and The Gloaming, joins the My Life Is Murder cast as Lawless' brother, alongside other series regulars Rawiri Jobe, Joe Naufahu and Ebony Vagulans.
Viewers will also recognise Jay Ryan (Creamiere), Bill Bailey (Patriot Brains), Robyn Malcolm and Antonia Prebble from Outrageous Fortune, alongside Lawless' Spartacus co-stars Anna Hutchison and Graham Vincent, as each episode sees Alexa continue to unravel the truth behind curious "unsolvable" cases.
Zooming in from America is acting legend William Shatner, best known for his roles in Star Trek and Boston Legal.
TVNZ OnDemand's RuPaul's Drag Race Down Under alum Elektra Shock and winner Kita Mean showcase their acting skills in the second season of the crime-drama, which also unites husband and wife duos Hannah Marshall and David De Lautour, and Grace Palmer and Rawiri Jobe.
My Life Is Murder is a contemporary mystery drama with a compelling female lead who is passionate about two things: discovering the secrets and hidden agendas behind the most baffling of crimes and perfecting her sourdough. Mostly in that order.