TV is everywhere, it's seen by a mass audience reaching 82% of New Zealanders every week!1
1 million 25-54-year-olds are reached weekly, each spending 2 hours and 10 minutes watching broadcast TV each day, and 89% of all broadcast TV is watched live.1
And the more your brand is seen, the more it impacts your business.
"Reach is the primary driver of media effectiveness. Our research shows that about 91% of media effectiveness can be explained just by reach alone" Les Binet, TVNZ Speaker Series 2018.
TV is immensely powerful. TV ads evoke emotion more than ads in any other media.
Why?
"There is nothing like video for manipulating people's emotions. The combination of moving pictures with music, in particular, is amazingly powerful for getting people to feel things." Les Binet, TVNZ Speaker Series 2018."
Brand building is a crucial component of achieving long-term business success and driving short-term sales. Its about the combination of:

Why is it important to build a brand over time?
Not all customers are ready to purchase at a specific time
Brand building aims to prime people to prefer your brand so that when they are in market, they choose to buy from you
TV is a powerful platform for creating brand associations that last for decades. It's the best place to create consistent emotional messaging that sticks in people's minds over time.
And it's not as expensive as you might think
The cost of TV is cheap compared with other media and is half the CPM of YouTube.2

Source 1: Nielsen TV Audience Measurement 2019. Source 2: NZ Advertising Agency, Market Data - average of 4 Agencies (2018) plus WARC (2016) - based on All People 18+, Broadcast TV = $10 CPM, YouTube = $20 CPM.
Why TVNZ?
Put simply, our breadth and depth of content and our ability to consistently deliver schedules means that we have content
for all New Zealanders to enjoy.

Source: Nielsen TAM, TVNZ Network, 1 Jan 19 - 31 Dec 19. Excludes repeat and filler programming, duplicate titles and infomercials. Local defined as NZ/ NZ Te Reo excluding international movies set/ filmed in NZ. Family Entertainment defined as comedy, reality, quiz, movie, soap, documentary, drama, mini series, variety and mag/ info. Consolidated.
Which is why we have the highest reach on-air

Source: Nielsen TAM, 5+, Jan - Dec 19. All time 0200 - 2600, Consolidated.
And we don't take this for granted and have five key pillars to keep us motivated and delivering.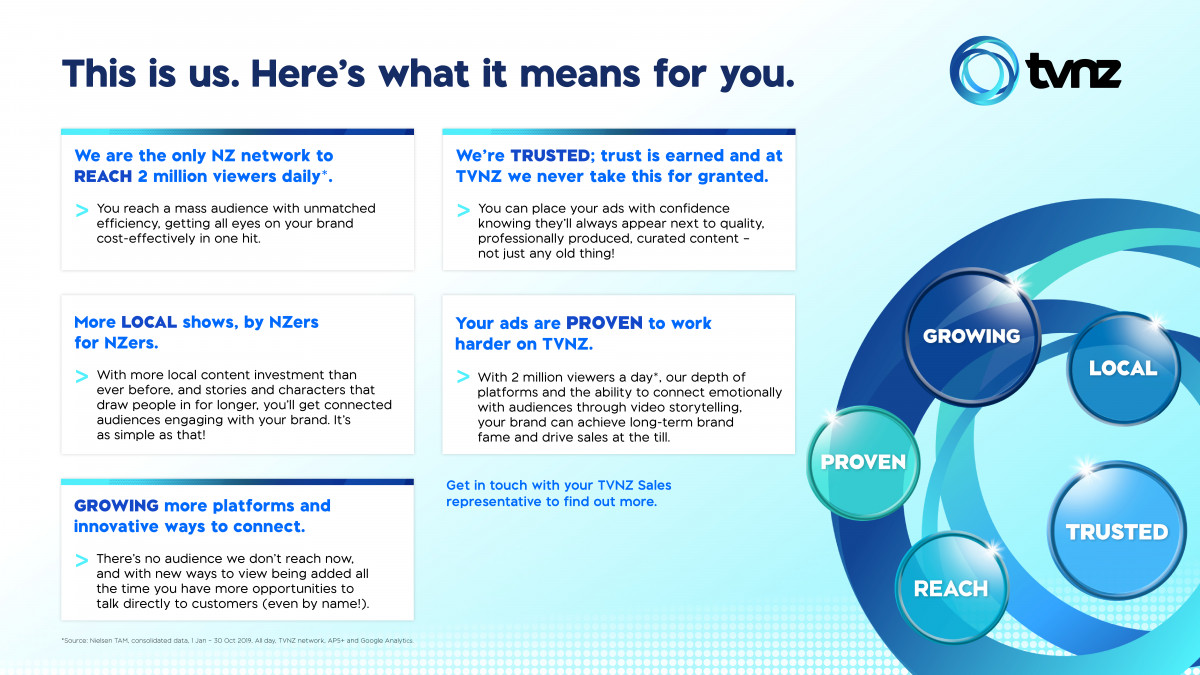 With over 2 million viewers a day, TVNZ's depth of platforms and the ability to connect emotionally with audiences through video storytelling, your brand can achieve long-term brand fame and drive sales at the till!